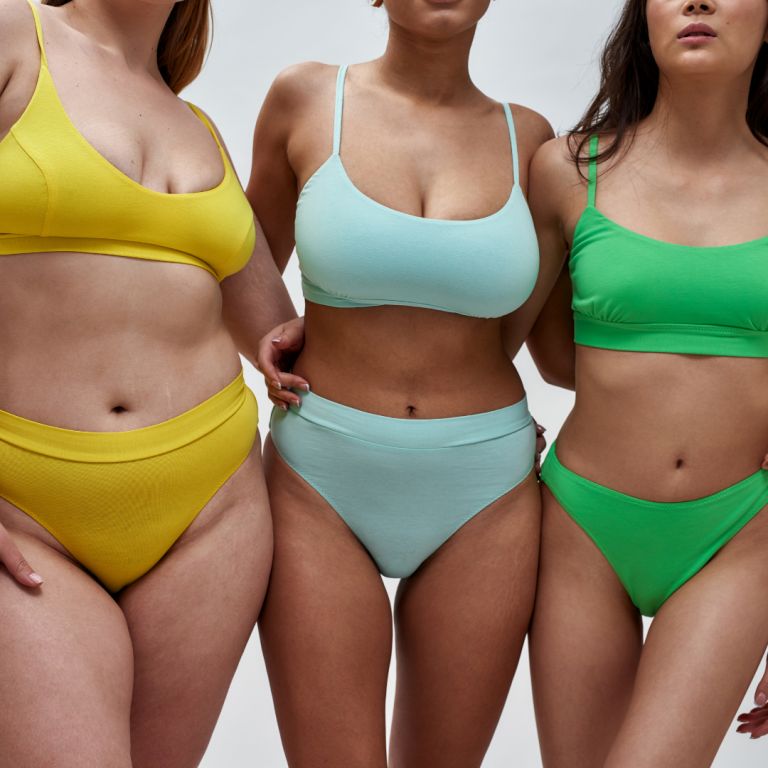 Everyone has felt like they do not look good in their clothes. As a plus-size girl, I often see myself having trouble finding clothes that look good on me. It's difficult to walk around the mall seeing many beautiful clothes that may or may not even look good on me. Fashion trends are quick to change, and for some people, including me, it is difficult to adapt due to our shape. Fashion is not only about looking good but also feeling good in the clothes you wear. More than the confidence that it is giving you, it empowers you in some way. There are several mistakes that you and I can make in choosing our clothes. But once you find out what your body type is, it'll be easier for you to find the clothes to look great in. What are the different body types, you ask? What's your type?
Knowing your body type is the first step to finding the perfect clothes for you. Here is a list of body shapes for women to help you figure out which body type you have:
Pear shape
If you think you have this body shape, you may have a wider waist compared to your bust. You may also have narrow shoulders and fuller hips and rear.
Hourglass shape
The hourglass shape is also known as 'curvy'. Being an hourglass shape means you have a well-defined waist. You have a fuller bust, hips, and thighs.
Apple shape
You may be an apple shape if your shoulders are broader than your hips and your waist isn't well-defined.
Rectangle shape
If you're not quite curvy, or your waist isn't as well-defined, you may have a rectangular shape body.
Like women, men also have different types of body shapes:
Triangle shape
The triangle shape is also known as the 'dad bod.' Your lower body may have more weight than your upper body. You may also have sloped shoulders.
Inverted Triangle shape
You may have an inverted triangle shape if your shoulders are much broader than your hips and waist. All in all, your upper body should be bigger than your lower body.
Oval shape
You have this body type if your torso is wider than your hips and shoulder. Also, your stomach may be rounder, and your neck may be shorter.
Rectangle shape
If you have a slender frame and your shoulders are the same width as your hips and waist, you may have a rectangular body.
Trapezoid shape
This body shape is also seen as the 'perfect body shape for men'. This body shape has broad shoulders and a developed chest. The waist and hips are narrow but not disproportionate to your upper body.
What to wear
Now that you know your body type, it is time for you to know how to dress. Read more, and you will be able to know which clothes to get so you can finally feel good in your clothes.
Pear/ Triangle shape
For women, it is best to wear crop tops and V-necks to balance your upper body. A-line skirts and any dresses with patterns and ruffles are also a good choice.
For men, straight point collars with medium spread are suitable. Do not wear anything that will make your shoulders narrower. For jackets, it is best to wear a light-colored one with shoulder paddings to broaden your shoulders. To make your thighs slimmer, wear something dark-colored.
Apple/ Oval shape
For women, showing off their legs and wearing deep V's will take away the attention from your midriff. The midriff (above the waist) is where most of your weight is.
For men, vertical stripes will help elongate your body and make you look taller. Avoid contrasting colors; dark monochromatic clothes will create a slimming effect.
Athletic/Rectangle Shape
For women, it is most suitable to wear ruffled tops to enhance the shape of the upper body. Blazers are also suitable for this shape, as well as long jackets. Avoid overarched dresses.
Hourglass shape
The hourglass shape is an ideal and well-balanced shape for women. It is best to wear tight-fitting clothes to show off the body's curves. Dresses that hug your body are perfect for these kinds of body types.
Inverted Triangle shape
For men, wearing slim-fit shirts can stress the shape of your body. It is also best to wear unstructured jackets and patterned pants. This is to avoid all attention from your upper body, creating more balance.
For women, wearing skinny jeans or pencil-cut skirts will look good with any tops. Your shoulders will look broader by wearing V-neck tops. Remember to keep your upper body plain and leave all the patterns on your lower body.
Trapezoid shape
Most clothes fit this body type, but the idea is to not look too plain. Make sure you stand out by adding little details that stand out. Try wearing light-colored shirts paired with dark-colored pants. Avoid wearing tight pants, and do not wear them below the waistline. Wearing pants below the waistline will make you look shorter than your actual height. Now that you are aware of what body type you have, you can now enjoy shopping for new and better clothes. If shopping isn't helping you with body confidence, consider other means like plastic surgery. You are supposed to feel good about your body, and if you need to tweak a little with surgery, do it! However, do consult an experienced surgeon, be it for fat removal or breast augmentation in Denver (or where you are based). Always find a way to be comfortable with your body, with or without surgery!
Anyway, whatever your style of dressing is, anyways remember that just because you don't have the ideal body type doesn't mean yours is out of shape. All bodies are beautiful; you just have to be smart and creative with what you wear. Undoubtedly, this guide will give you a better idea of how to dress your body shape.